A few quick mentions that are time sensitive but didn't make it into the last Missive. Thanks for all the warm notes after that one. I feel loved. B'Shalom, Jim

Now! Please, Stop and Consider How Nuclear Weapons and Whatever Other Struggle You Work On are Very, Very Linked.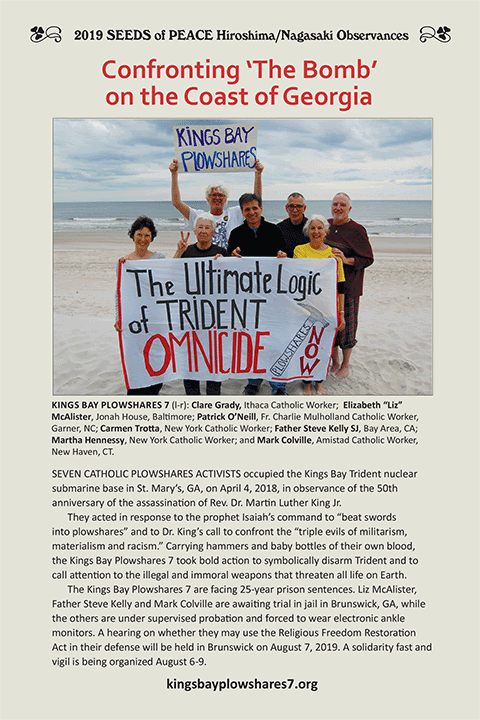 I am about to join a Fast for Peace (liquids only) at the Kings Bay Naval Submarine Base in St Mary's, Georgia in solidarity with the Kings Bay Plowshares 7 who have a court proceeding on August 7. August 6 and 9 are days to commemorate the people of Hiroshima and Nagasaki on whom the United States dropped atomic bombs in 1945.
I am grateful to have been able to visit Hiroshima and Nagasaki in 2011 when I worked for Nevada Desert Experience as a delegate to the annual gathering of the Japanese anti-nuclear group Gensuikyo. When I lived in Las Vegas, we'd go out to the Nevada National Security Site where bombs were–and may yet again be–tested (read: detonated).
For those who would like to help defray costs associated with the Solidarity Fast and in support of the Kings Bay Plowshares 7, checks made to "Plowshares" with "Solidarity Fast" written in the memo can be sent to Plowshares, P. O. Box 3087, Washington, DC 20010, or link to https://www.gofundme.com/xaajdf-kings-bay-plowshares-support-fund  and note Solidarity Fast in your payment.)
Around here, I usually join Tri-Valley CARES, Western States Legal Foundation, EPICALC, the Livermore Conversion Project and other usual suspects out at the Lawerence Livermore National Laboratory (LLNL) which devotes upwards of 90% of its budget on nuclear weapons design and research. Here is more information about this Tuesday's action at LLNL.
I am nervous now more than ever about the danger–the ongoing harm–of nuclear weapons. I want to bring more attention to the rising threats as treaties are abrogated and it seems that the whole idea of international law is under attack.
The initiative behind this fast comes from my friend, and an inspiration to many, Kathy Kelly, along with Voices for Creative Nonviolence which she co-founded originally as Voices in the Wilderness. I hope actions like the Kings Bay Plowshares 7 can touch people, reach people and awaken some thinking about nuclear weapons and our need to deal with them and not just stand aside. We're not broke! We're spending shitloads of money on weapons that are causing serious harm on all scales.
We fervently need people and other activists to pay attention, to see that intersectionality of oppression is buttressed by the ginormous US military budget and particularly, the constant US threat of first use of nuclear weapons. The United States is alone among nations refusing to renounce first use of nuclear weapons.
Apply now for end of year Center for Jewish Nonviolence delegation to Palestine and Israel.
Join me on the next delegation with the Center for Jewish Nonviolence that will take place over new years (Julian calendar, 2019/2020). Here is a link to the application which includes more background and details. Note that you need to complete the entire application in one sitting/log in, and it includes some thoughtful questions about yourself. Don't expect to do it a bit at a time. Early Bird discount deadline is/was August 5. There are some "scholarships" available too. Application deadline is later in August.
If you are available on Wednesday, August 7, Oriel Eisner, CJNV's wonderful ED will be talking about CJNV and the delegation in a small gathering at Kehilla on Grand Ave. in Piedmont. Here is the FB event page for August 7. CJNV trips are outstanding for people who have been active in the diaspora as well as for people, especially Jews, getting motivated to go there to stand in defense of Palestinians, alongside Palestinians who have asked for our presence in their communities because of past CJNV actions. I find it very compelling, obviously, since I look forward to going back.
Bring Out Your Beloved Dead!
This year is the 40th annual Spiral Dance ritual organized by the Reclaiming Collective. It will be at the Craneway Pavilion in Richmond, California on Saturday, October 26.
Every year at the beginning of the Spiral Dance, we project and read aloud the names of our beloved dead who have passed away since the previous Samhain (or thenabouts). In the spirit of "What is remembered lives," I am inviting you to send in the names of your beloved dead from the past year using this link. Send in as many as you like. Blessed be.
And now, as I am only about to embark to points east and Eamon, here are a few pics Lacy has shared since I was  last there.